Overview | Story
The birth
Masaki Mark Kobayashi
Founder and President, iruka Inc.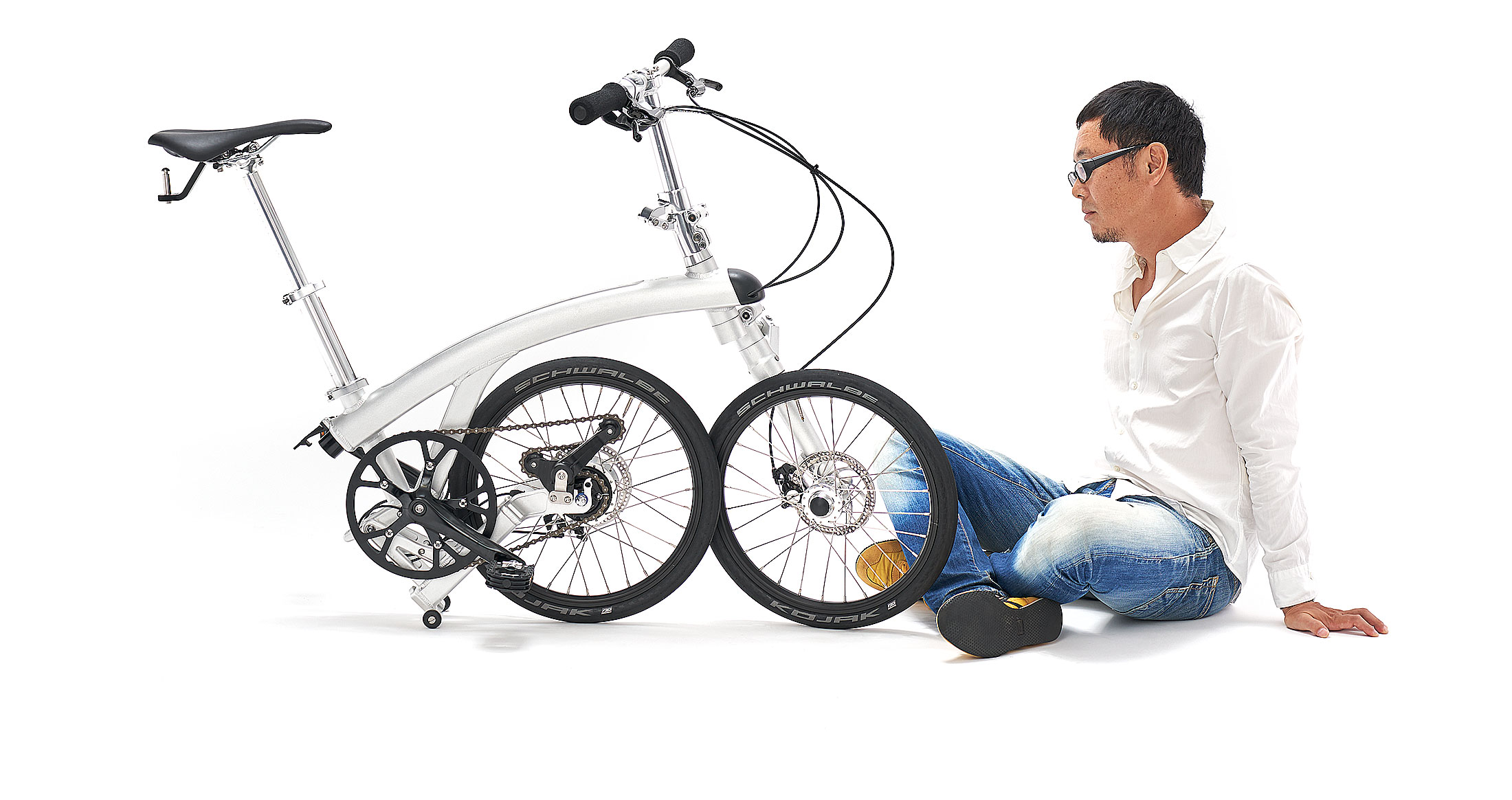 First Encounter
In 2004, I decided to buy a bike after moving to a new home. Without any specific plans of what kind of bike to get, I went to a bike shop in Akasaka where my friend worked. The folding bicycles section caught my eye.

It was the first time I'd ever taken a good look at folding bikes. Brand "D" from Taiwan, "R" from Germany, and "B" from England – the different brands all seemed to have different folding mechanisms.

I took a few for test rides and realized my misconception that small-wheeled folding bikes were slow. They were much faster than I expected. I found that they were good enough for commuting; that I could bring one into the office; or carry them by car or even on a train. A folding bike was like a transforming robot. It took me less than a minute to decide I'd buy one.

I ended up choosing brand D because the riding posture suited me best. It sported 20-inch wheels, 9 speeds, and could be folded sideways in half. It was approximately 100,000JPY, which wasn't cheap, but I wanted a ride as soon as possible.

Luckily the mechanic was available, so the bike could be set up for me to ride back home that same day. A couple hours later, I pedaled out to the streets of Tokyo in the twilight.

From Akasaka Mitsuke, up Kinokuni-zaka and through Yotsuya, when I pedaled in top gear on congested Sotobori-dori Street, the cars stuck in traffic around me faded away behind me. It was quite exciting and refreshing. Looking back, my life changed that day.
The best and the fastest.
The following week, I quit my 30-minute commute by train and started to bike. There was no place to park by my office, but that was no problem because I just folded my bike and brought it to my desk. There was no chance of losing it to thieves or having it removed by the security guard.

My route to work was 5km, and I assumed that it would take more time than riding the train. However, once I started to commute by bike, I found out that it actually took less time. The train ride itself was quicker, but biking was faster door to door. It was a great discovery.

Later I learned that there were many studies and data that showed that biking is actually the fastest means of transportation within 5km. The 5km radius of central Tokyo nearly encircles all of the Yamanote Line. It's no overstatement to say that biking is the fastest way of getting around central Tokyo.

It's not just the speed but the experience that also fascinated me. Biking in Tokyo made me realize rich and delicate aspects of the city I had never noticed from a train or car. The dull, everyday commute became a special time of day that I looked forward to with anticipation. Biking changed my commute into an exciting time, or even a deep, quiet and contemplative time.

It wasn't long before I started biking everywhere in the city, or folding my bike and traveling with it on trains or cars for cycling excursions outside Tokyo. Traveling in Tohoku, Shimanami Kaido, Shonan, Azumino and Kyoto etc. – amazing trips that wouldn't have been the same without my bike.

It's fast and fun. And the fact that I can fold my bike means I can use other forms of transportation to make up for the drawbacks of bike travel – long distance, steep hills, or inclement weather. Folding bikes are amazing. With my new transportation partner, I'd gained a new lifestyle.
Seeking perfection
I fell in love with brand D's bike. It rode well, and its linear and sharp appearance was quite appealing. It weighed precisely 10kg, making it light for its kind. It was indeed a well-crafted bike.

However, as I continued to use it, I began to see some flaws, and I couldn't say that I was perfectly satisfied. For example, I couldn't store it beneath my desk. And it would only fit at the very back of the compartment on the bullet train. These issues were related to its size and shape when folded. Furthermore, 10kg is quite heavy to carry from the office building entrance to my desk, or from the ticket gate to the train platform.

Regular city riding was not an issue, but if pedaling at high speed or going uphill, the frame felt as though it would flex. Most folding bikes, including brand D, positions the hinge on the top tube, which is the spine of bike. Heavy pedaling force around the bottom bracket can cause twisting and creaking.

The German brand R bike didn't have a hinge on the top tube and had better frame rigidity, but its folded size was almost the same as brand D. British brand B's bike fit within a 60-cm square which was smaller than either D or R, but I was not comfortable with the riding posture or its rideability. There are many folding bikes out there, but when considering performance and portability, brands D, R, and B are the world's top three in every practical sense. In other words, there was no folding bike in the market that would satisfy me 100%. However, it never occurred to me to create my own. At least not until the summer of 2006.
Decision to start my own
In 2006, I was CFO at an internet advertising agency. The company had been founded by four members including myself, when we were all in our 20s. We had been listed to JASDAQ in 2004, and had an annual revenue of 30 billion JPY, with over 500 employees at the time. For a company that began in a small apartment by youngsters, I would say that it was quite a success. We were growing and I was busy and feeling fulfilled. And yet at the same time, I had no intention of clinging onto my position; I could have left the company any day had I found another passion in life.

That summer, the management team held an off-site meeting. One of the items on the agenda was to share our individual passions to understand each other better. The day before the meeting, I sat in front of my PC at home thinking, what sort of dreams did I have? I typed out some thoughts: things about the company, my hobbies, tennis and bodyboarding. Then a thought crossed my mind – start my own folding bike brand. The moment I hit the enter key, myriad thoughts formed my vision.
A world where bikes are preferred over cars would be a happier place.
Folding bikes are fun; so I wondered how to make them more popular.
There are good folding bikes, but they could be improved.
Could I start and manage a business for the global market?
How would I do if I started a new business from scratch with my existing knowledge and experience?
Random thoughts coalesced – "I am starting my own company. I am going to make an amazing folding bike for the global market. I am going to spread the biking lifestyle to the world and make everyone happy." It was all quite sudden, but I was hooked.
Sommelier knife
In early 2007, while preparing to quit my job, I began discussing the requirements for iruka's design with a product designer I found on Google. We brainstormed to see what requirements the bike needed to fill:
Mainly for city rides, but also good for middle and long distance.
Readily portable indoors and in-vehicles.
Easy to carry when folded.
Realize both roadability and portability with as little parts as possible.
To be able to bike even with much to carry.
Something precious to keep close and own.
That meant that the bike should perform like a sports bike, be much easier to carry than other folding bikes, and be able to accommodate attachments for carrying things, all while maintaining a simple and beautiful form.

Performance and portability is generally considered a trade-off. The wheel size and the wheelbase (the distance of the front and rear axles) make it a challenge. Smaller wheels and a shorter wheelbase will make a smaller bike, but will also sacrifice performance.

To strike a good balance, such a bike would need the geometry of a sports bike, with at least 18-inch wheels; have no hinge on the top tube, yet can be compactly folded; and be equipped with a device to carry it around easily. We needed a revolutionary folding mechanism. We brainstormed and sketched continuously for almost a year, but couldn't come up with a good idea.

It was at year's end, when I attended a friend's wedding reception that I came across a sommelier knife (folding wine opener) that one of the staff had in hand. The knife, lever, and the screw – all fit neatly under the handle. The slot in the center of the handle and its arced shape made it possible. Inspiration struck.

After this epiphany, I sketched the basic structure of iruka frame on the back of an airsickness bag on my way to India for a year-end holiday. It would be the archetype for the jackknife frame of iruka.
Production partner
In 2008, I left my previous company and founded iruka Inc. After I spent almost a year designing the basic structure of the product, I started visiting OEM factories in Taiwan and China to look for a partner who could build prototypes and handle mass production.

Japan used to be one of the largest bike producing nations, but most manufacturers could not compete on cost with other countries and subsequently went out of business, so mass production would be extremely difficult in Japan. Taiwan and China now lead in bike manufacturing. In fact today, most famous European and American bike brands are manufactured in Taiwan and China.

Finding a partner was not easy. Most factories responded positively to the product but when it came to actual production, they didn't wish to proceed. There were various factors involved but the biggest drawback was that the project necessitated entirely new mechanisms and parts, both of which required considerable time and resources before mass production could begin. In short, it was a troublesome project with quite a bit of risk.

Another issue was that we only had design data; we didn't have a model to show. It sounds paradoxical, but it helps to have an actual model to see and touch when discussing the manufacture of a product. You can't convince others how serious and committed you are without something tangible.

So, I ordered a simple model made of iron at a small workshop in Japan, which I brought with me to show. After a number of visits, a manufacturer in suburban Shanghai agreed to go for it. However, after creating the first prototype, the project suffered a setback when the factory's general manager left the company.

After that, we had to continue our long search for a production partner. Several manufacturers gave up after creating one prototype or even before beginning trial production. Perhaps they couldn't deal with the challenges of iruka's production or our very exacting standards. Every time we lost a manufacturer, we had to begin the search again.
iruka is born
While we traveled from factory to factory in China and Taiwan, iruka's design changed significantly with each prototype. The structure of the front fork, the folding mechanism of the stem, the lock functions, the way to manufacture the top tube, the layout of the wiring– nearly everything was revised from the original plan for the better. Even if the drawings and 3D renderings appeared to be perfect, they sometimes didn't work as expected, or inspired a better design during testing. We started developing the carrier attachments at the same time, which helped provide insight for the bike itself. Suffice it to say, you don't learn much about making things until you actually start making things.

The prototype process was fun and exciting, but I desperately needed to move the project forward. In the winter of 2015, when we hoped to finalize details to head into mass production, we were introduced to company "J" which maintained a factory in central Taiwan. J was small but was developing and producing many unique bicycles – mainly folding bikes. J's president was also an excellent engineer and expressed strong interest in iruka, offering to take the lead from prototype to mass production. His knowledge and experience took iruka to another level. After two test models, mass production of iruka finally began in 2019.

Now, iruka is waiting to be your partner.