News
2019.11.16 Press Release
Six months since its sales launch, the iruka mobile folding bike from Tokyo is set for overseas sales in three countries
After Japan, sales expands to Indonesia, Hong Kong and Singapore
iruka Inc. (Shibuya-ku, Tokyo; Masaki Mark Kobayashi, Founder and President) is expanding from Japan to overseas sales of iruka, a highly evolved folding bike superbly adapted for urban roadability, fold-up portability and storability, offering iruka in Indonesia, Hong Kong and Singapore.
From IT to manufacturing: the bike developed over a decade by a former executive of a listed Internet venture
Ten years in development, iruka was launched six months ago, and takes its name from the Japanese word for "dolphin", which embodies liberation and wisdom as it glides through the boundless ocean. It's a fitting symbol for a bicycle that enables riders to zip freely through city streets.
Kobayashi was a founding member and CFO of OPT Inc. (now OPT Holding Inc.), one of the largest online advertising agencies, when he bought a folding bike and began riding it to work. That experience inspired him to fixate on the idea of creating the best folding bike in the world. In 2008, with zero experience in the bicycle industry, he left the company to found iruka Inc.
Inspiration came at a friend's wedding reception, when he noticed a sommelier knife (folding wine opener) that hinted at a folding bicycle mechanism for iruka. He found a product designer through a Google search, and began the design process. But given the sheer difficulty of the development work, and Kobayashi's refusal to compromise his ideals, progress on the project was far from easy. It was only after ten years of taking the project to one factory after another in Taiwan and China, and going through nine generations of prototype, that the bike could be put on sale this year. For details on iruka's development history, see Overview | Story.
From Tokyo to the world
The launch began with sales in nine small-wheel bike pro shops in Tokyo and Kanagawa prefecture, later expanding to Miyagi, Gunma, Aichi, Shizuoka, Kyoto, Osaka, Okayama and Fukuoka prefectures for a total of 19 official domestic iruka retail outlets.
The companies listed below have been designated exclusive distributors in Indonesia, Hong Kong and Singapore, where iruka sales are now being phased in.
Indonesia
Company name: SPINWARRIERS
Website: https://spinwarriors.com/
Representative: Tjandra Kisnata
Other major brands offered: Brompton, Alex Moulton, Tyrell
Hong Kong
Company name: Wing Fung (Asia) Co., Ltd.
Website: https://www.wfc.com.hk/
Representative: Joseph Lee
Other major brands offered: Alex Moulton, Tyrell
Singapore
Company name: Mighty Velo
Website: https://www.mightyvelo.com/
Representative: Steven Lim
Other major brands offered: Birdy, CarryMe
"I am very gratified and proud to be able to count SPINWARRIORS, Wing Fung and Mighty Velo among iruka sales partners," said Kobayashi. "Each one of these companies has established a solid position for itself within its respective country as a specialist in high-end small-wheel bicycle distribution. In addition to that, they also deal exclusively in bicycles that truly excel in functionality and design, as is clear from the other major brands they handle. I feel greatly honored that iruka will soon be added to the product lineups offered by these three highly selective and discerning distributors. I'm so excited when I imagine iruka bikes moving through the city streets of these countries."
Four modes of transformation. Run. Wait. Walk. Sleep.
The completely revolutional iruka folding structure features distinctive eye-catching bilateral symmetry with an arc-shaped jack-knife frame and a stout left-hand cantilever front fork.
Run mode: Surprising riding performance
Configured to run, iruka provides superb riding performance on a par with large-wheeled sports bikes, despite its 18-inch compact wheels. The top tube, the spine of any bike frame, is hingeless, which makes for a highly rigid frame structure. Combined with a stable geometric design and solid parts choices like the Shimano Alfine 8-speed hub, the result is a total package that delivers true value, particularly in urban settings like Tokyo.
Wait mode: Stand-up smart parking
In space-saving Wait mode, iruka can be parked with just the rear wheel folded. The folded bike stands on its own, and is only two-thirds its full length, or about half the length of a standard bike, so you won't have any trouble finding a place to park.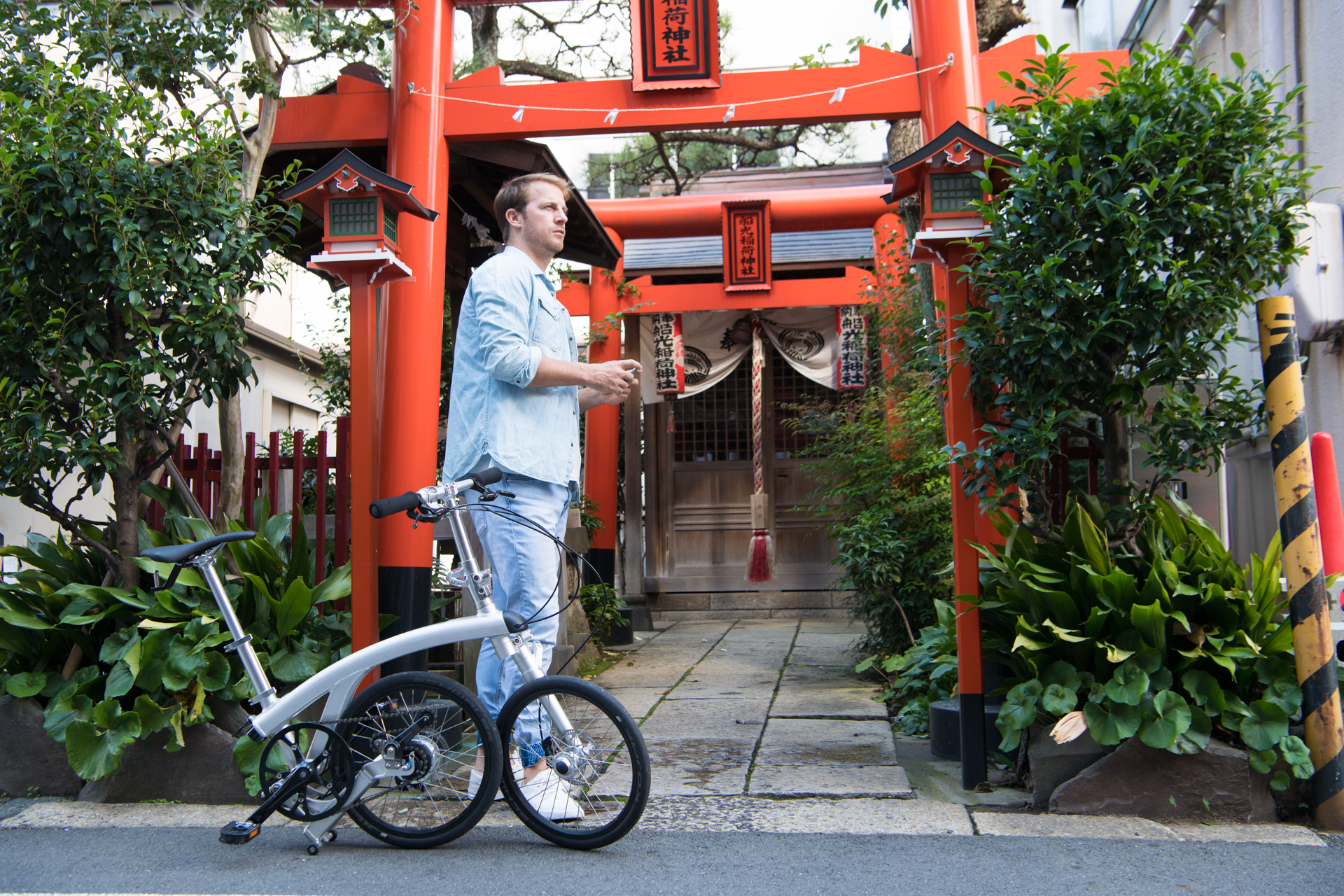 Walk mode: Roll it, or take it anywhere
In Walk mode, you can roll it along like a carry cart by holding the saddle since iruka's front and rear wheels fold parallel and coaxially. From metro concourses to airport terminals and inside office buildings, you can take iruka easily to all kinds of new places where you have to struggle to carry a conventional bike.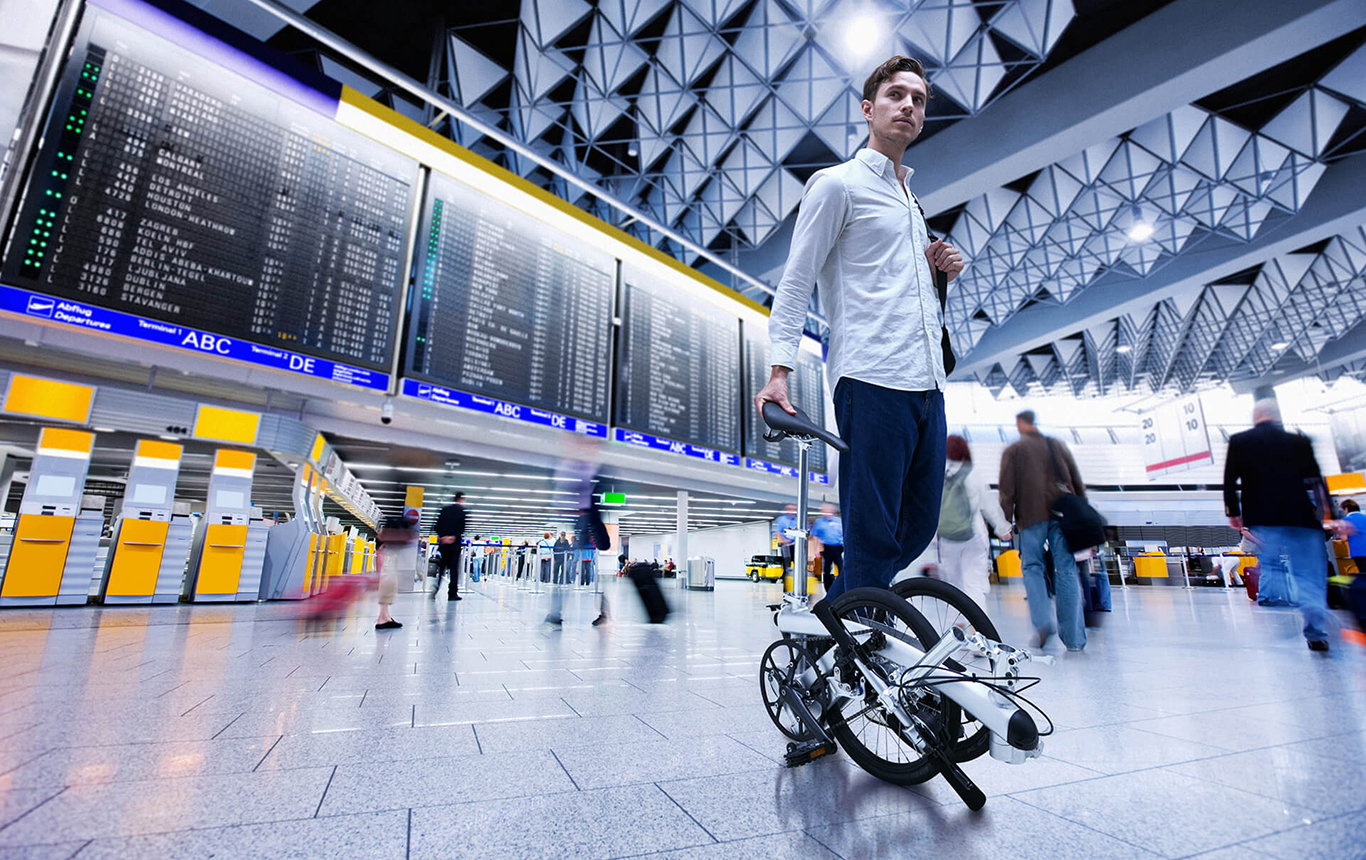 Sleep mode: Never been more compact
In Sleep mode, iruka folds up completely for storage. Collapsing into dimensions of just W78 x H48 x D35cm, iruka takes about 30% less space than ordinary folding bikes.* The perfect rectangular folded shape has an esthetically pleasing aspect ratio close to the Golden Ratio, and fits easily under a desk, in a car trunk, or any other space. When stood on end, you can even place it between your feet at your Shinkansen Train seat.
*Compared to a 20-inch folding bike's volume (W x H x D)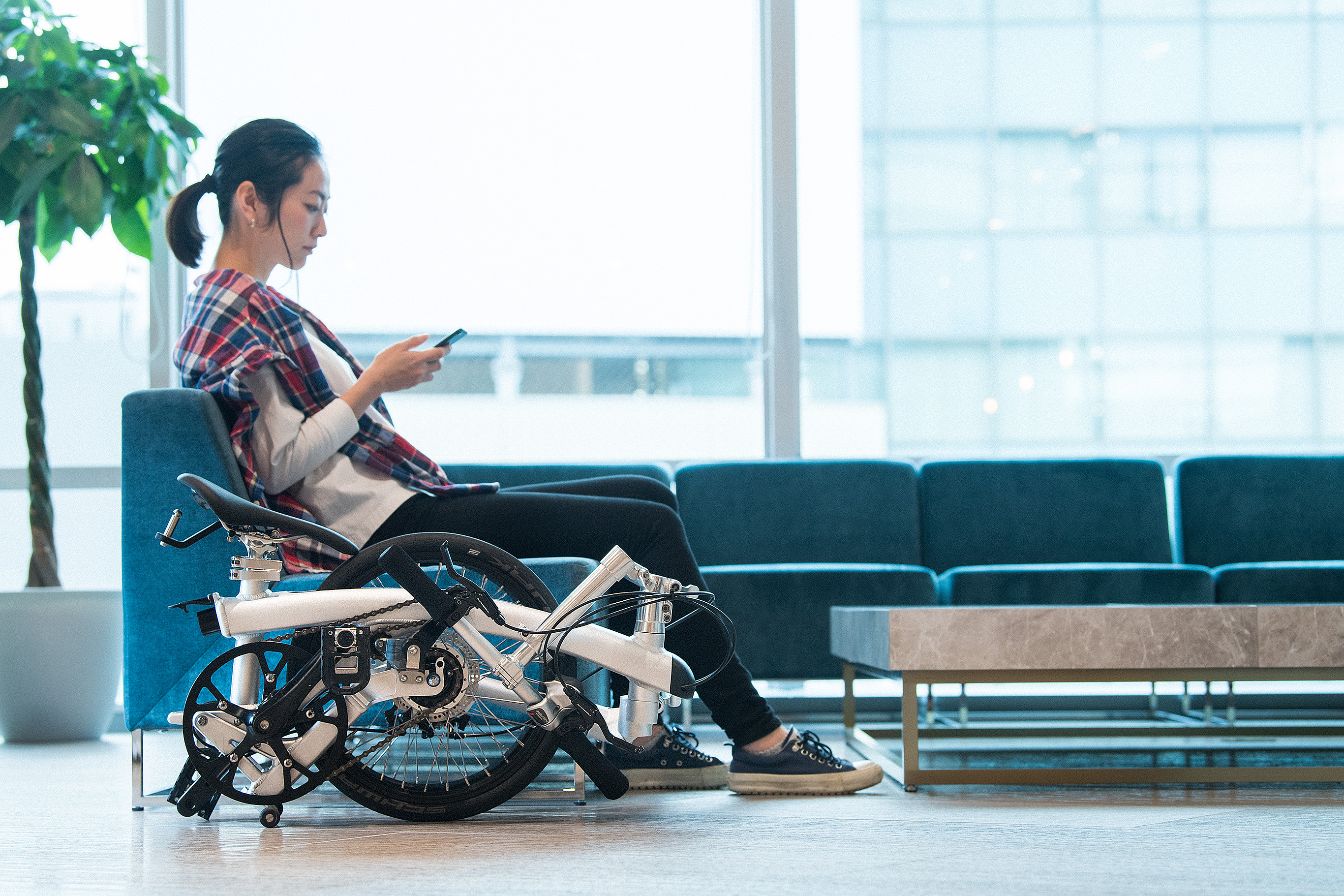 iruka Inc. plans to keep on expanding iruka sales areas to more countries worldwide to make this extraordinary bike available beyond Indonesia, Hong Kong and Singapore in the future.
—
Specs
Price: ¥212,800 + tax
Frame material: A6061 aluminum
Wheel diameter: 18-inch
Gear box: SHIMANO Alfine 8S (internal 8-speed gear hub)
Brakes: Mechanical disc brakes
For more details, see Overview | Specs.
About company
iruka Inc. is a bicycle company based in Tokyo. We create the products that make our travel time happier such as iruka folding bike and iruCart compact cycle trailer to achieve our vision, "a world where biking is considered cooler than riding a Mercedes would be slightly different".
For more about our company, see Corporate.
Contact
info@iruka.tokyo